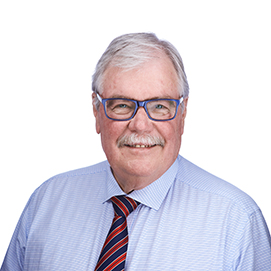 02 Dec

Alan Scott

Alan has 40 years' experience in insolvency and corporate recovery and is a registered liquidator and a registered trustee in bankruptcy with extensive experience across a vast number of industries and highly complex matters.

Throughout his career, Alan has been appointed to high profile corporate administrations and bankruptcies involving comprehensive strategies to stakeholders. In addition to being a personal insolvency specialist, Alan also provides company insolvency, business recovery, and investigative accountant services.
Specialisations
Property and Construction
Energy
Retail
Manufacturing
Logistics
Tourism
Primary Industry
Key Projects
Alan has been appointed to numerous matters in Australia including:
Joint Receiver of a shopping centre resulting in successful negotiations with stakeholders, a sale of the property and full repayment to secured creditors.
Liquidation of a shipping company involving investigations into insolvent trading resulting in prosecution of a company director and ultimately settlement of the claim at mediation.
Receiver and Manager of a mobile catering service, allowing continuation of trade. This ultimately secured the sale of the group of entities leading to repayment of a portion of debt owing to the bank.
Trustee of a bankrupt estate of an individual bankrupted by the ATO. After further investigations into the bankrupt's trusts and actions pursued, this matter resulted in repayment of ATO debt.
Voluntary Administrator and then Liquidator of a Tier 1 supplier to the motor industry. With the support of major customers, the business traded until sold.
Trustee of a bankrupt estate of a plastic surgeon resulting in full payment of all debts.
Liquidator of TFC (2013) Pty Ltd (Formerly "Trims Finance Co. Pty Ltd") which traded "Trims". This liquidation included the negotiated settlement of a number of 'retention of title' claims under the then new PPSA legislation, the organisation of the closing down sale and recovery of a number of unfair preference claims.
Voluntary Administrator and subsequently Liquidator of Caring Choice Pty Ltd, a provider of care services to children, disabled persons and the aged. The liquidation has included settlement of a claim against an escrow fund, recovery action of a number of unfair preferences and claims against related parties.
Qualifications
Registered Liquidator
Registered Trustee in Bankruptcy
Bachelor of Arts (Accountancy)
Memberships
Fellow – Chartered Accountants Australia and New Zealand
Fellow – Australian Restructuring Insolvency and Turnaround Association
 Australian Institute of Credit Management
Alan Scott's Recent Articles
Are you concerned about your financial position?
Contact us now for an obligation free consultation on