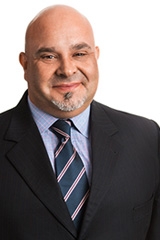 12 Jul

Peter Gountzos

Peter's 20 plus years' of experience in the management of both formal and informal insolvency appointments means that he has an expert knowledge of all aspects of corporate and personal insolvency administrations.

Clients are assured the best result when they work with Peter. His specialised knowledge means he can provide the right business and financial advice, maximising results for all clients and stakeholders.

Peter has extensive experience in advising financially distressed clients and stakeholders across a broad range of businesses and industries in all facets of both corporate and personal insolvency, including restructuring, business workouts and debt negotiation.

He endeavours to help ease client pressures during times of uncertainty. He is able to quickly identify problems, but more importantly, he has the experience and ability to find practical and cost-effective solutions.
Specialisations
Peter is a leading insolvency specialist in the retail, building, hospitality and automotive industries, having conducted a number of large administrations which required trading on the business in order to achieve a successful sale or facilitate an acceptable proposal for the company continue via a Deed of Company Arrangement.
Key projects
From his appointment as one of the Administrators of Dimmeys Stores Pty Ltd, which resulted in the successful sale of a large specialist retailer operating from 41 retail outlets along the east coast of Australia to formal appointments over small privately held companies, Peter has conducted a large number of corporate and personal Administrations across the following broad range of  industries:
Manufacturing
Automotive
Audio Visual and Electrical
Accounting, Legal and Financial Services
Mining and Agricultural Enterprises
Real Estate
Labour Hire
Hospitality, Hotels, Pub's, Reception Centres
Construction
Retail
Transport and Logistics
Qualifications
Registered Liquidator
Bachelor of Business
Memberships
Certified Practising Accountant (CPA)
Institute of Public Accountants (IPA) – Fellow
Are you concerned about your financial position?
Contact us now for an obligation free consultation on