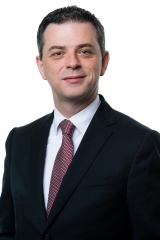 12 Jul

Jason Porter
Our People
Contact our team to find out how we can assist you
Jason is a director of SV Partners and has over 20 years' experience in corporate and personal insolvency matters at leading insolvency and advisory firms providing practical and commercial advice to financiers, creditors and directors.
Jason has significant experience in bank and financial institution advisory assignments for most of the major banks and second tier financiers. These assignments have included trade on receiverships, security enforcement, property and going concern business sales, investigating accountants' reports and pre-lending reviews. Jason has significant experience at administering difficult and complex bankrupt estates and is regarded as one of the leading personal insolvency experts in Australia.
Jason has the required expertise to help manage the business recovery and restructuring process, frequently being sought out by financiers, lawyers and creditors to conduct in-depth investigations and examinations. Jason has given evidence before the Federal Court of Australia and the Supreme Court of New South Wales.
Since 2014 Jason has been a member of the committee of the NSW/ACT Division of the Australian Restructuring Insolvency and Turnaround Association (ARITA) and is represented on the bankruptcy and education subcommittees. Jason is the chairperson of the NSW/ACT Division insolvency forums and an ARITA representative for new Bankruptcy Trustee application interview panel.
Jason has been a presenter at the 2014 National Practical Bankruptcy Congress in Sydney, the 2015 ARITA National Conference in Perth and at the 2015 and 2016 ARITA NSW State Conferences in Sydney. In 2015 Jason presented on insolvency case experiences to undergraduate law students at the University of Technology Sydney (UTS) and in 2016 was interviewed by Associate Professor Jason Harris of the UTS in respect of working in bankruptcy for the ARITA Advanced Insolvency Course. In August 2017, Jason was admitted as a Fellow of ARITA in recognition of his services to ARITA and a leader of the restructuring and insolvency profession.
Specialisations
Entertainment and Media
Hospitality, Tourism and Leisure
Managed Investment Schemes
Manufacturing
Personal Insolvency/Bankruptcy
Photographic and Printing
Property
Retail
Key Projects
The Lemon Tree Sydney – liquidation of Sydney restaurant
Gavan Products – liquidation of road, rail, military and marine transport equipment company
Bankruptcy Trustee – paparazzi photographer
Bankruptcy Trustee of – prominent Sydney businessman
Manager in charge of the Bankrupt Estate of a Former Queens Counsel
Lyrebird Express – liquidation of transport business
10A Church Street Randwick – Trustee for sale of unit block
Quattro Formaggi Deli and Wine Bar Mosman – liquidation of deli and wine bar
Palais Royale – managed receivership of heritage hotel
14 Garnett Road East Maitland – managed receivership of commercial property
Shop 1/274-290 Victoria Street Darlinghurst – managed receivership of commercial property
Qualifications
Registered Liquidator
Registered Trustee
Chartered Accountant
Bachelor of Commerce
Restructuring Insolvency and Turnaround Fellow (RITF)
Australian Restructuring Insolvency and Turnaround Association (ARITA) Insolvency Education Program
Justice of the Peace
Memberships
Institute of Chartered Accountants Australia and New Zealand (CAANZ)
Fellow – Australian Restructuring Insolvency and Turnaround Association (ARITA)
ARITA NSW/ACT Division committee member – including bankruptcy and education sub-committees
Jason Porter's Recent Articles
Are you concerned about your financial position?
Contact us now for an obligation free consultation on